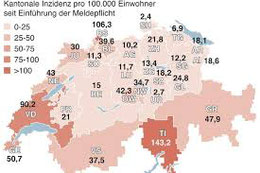 Foreigners can buy holiday homes but need special permission to do so. Several factors apply. The dwelling must be in a place designated by the cantonal authorities as a holiday resort, where quotas come into play. The cantons and municipalities may add their own restrictions, such as allowing foreigners to buy only residences that are already foreign-owned.

Holiday homes may not be rented out on an annual basis but only periodically. Serviced flats must be made available to the relevant hotel owner for hotel operations, especially during the high season. 
A people's initiative in 2011 limited the construction of second homes.
As a general rule, the net floor space (which includes rooms such as the kitchen, hall, toilet, indoor swimming pool, sauna and hobbies room, but not balconies, the stairwell, cellar and attic) and the surface area of the real estate must not exceed 200 m2 and 1,000 m2 respectively. Larger areas, up to 250 m2 and to 1,500 m2 respectively, are authorised automatically if you can prove a need. Only in exceptional cases are the limits higher.
Lastly, it is generally prohibited to have more than one holiday home at a time in the family. If the purchaser of a holiday home or serviced flat, their spouse, registered partner or child under 18 already own such a dwelling or a secondary dwelling in Switzerland, authorisation may only be granted provided that the dwelling is sold before the new purchase is entered in the community's Land Registry.